Some images. Just a small selection from photos I have taken over the years. iPhone, Sony Alpha and a Fuji S9500 reflex.
Some videos with an old camera...
...and posted on YouTube and made a few years ago (well, more than a few) - odd tacky things made on dv tape format.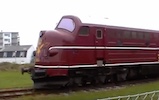 When I was in my mid-teens my father gave me an Admira f8 film camera. I suppose he thought I would use it to capture important family moments. Me, being me, discovered it had a stop motion function which was a lot more fun. Odd things were made. Problem was the cost of buying film stock. Four minute's worth of developed Kodak 8mm required an outlay of about £4 (that's about €110 today) which limited my aspirations. And somewhere along the way, growing up, girl friends, having to make a living, marriage, and so on, all that somehow, was lost. Films were put away in a wardrobe and forgotten.
But, by chance, I found most of them in a box at my parents' house. My brother had some as well - must have been in another box. Even better, I picked up an old Eumig E8 projector in the local Y-Men's second-hand market. It works, and I've relived a bit of history...